Local SEO For Local Businesses
Local Business SEO
What is Local SEO?
Local SEO is a practice of optimizing your website so that it ranks higher on search engine like Google especially in your local area search. The main aim of Local SEO is to make sure that the potential local customers (who are present in the same Geographical area that your physical business is located) find you easily on Google. Thus, Local SEO is an effective practice for a Local Business as it ensures that your business is found by your targeted customers in "Real Life" too. 
Why is Local SEO so important?
Millions of customers from every part of the Globe use (online) local search every day to find the best businesses of their need in the same Geographical area where both the business and the customers co-exist as almost three-fourths of the customers who search for something locally end up visiting the physical store same day.
So now it's not a rocket science to understand that the "local searches" make up a huge chunk of the entire searches. And, if your website is able to come in front of the local searches in your Geographical area, there is a real chance they will bump into your store/office in person.
If you own a physical business besides online merchandize,
Then the real question is how to be visible on top of the local searches given the fact that the real deal (i.e. buy/Sale) happens only after your website seen by your potential customers.  
Here comes the role of a Digital Marketing Company like us who is specialized in Local SEO. We help businesses promote their products or services through advanced Local SEO. We use a variety of effective strategies such as getting your website ranked on top of the search results of search engines like Google, Google My Business listing & Bing places for Business (for location based search) along with most popular business directories such as Yelp, Angie's list, Hotfrog, Superpages, Manta, Foursquare and Yellowbook including few other local directories and putting localized content, your business related trending topics & events information on your website besides looking after online reviews & other Local SEO strategies.
Our Local SEO services is customized towards a very targeted online marketing approach, (it's not like dropping off brochures on front-porch steps or paying for an ad in a local newspaper that may or may not be seen by a potential customer who is actually interested in your products or services). A trusted Local SEO company positions your business website on various search engines and other digital marketing platforms including most popular social media sites like Facebook so that you're seen by your potential customers — on their terms.
Top 5 ways to improve your local ranking on Google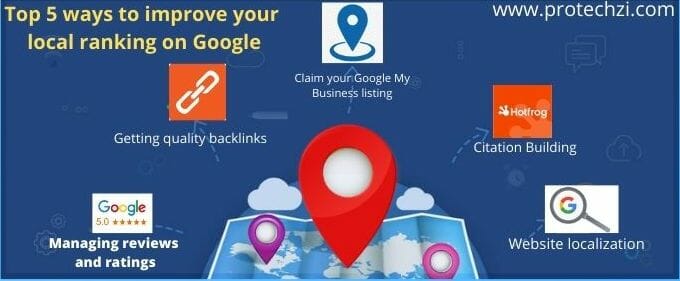 Below are the top 5 factors which impact your local ranking the most on Google.
1. Website localization
Localizing your website includes putting NAP – Name of your business, all of your addresses and (clickable) Phone numbers on contact page of your website (and on other pages where necessary). For a business that provides services in several locations, It could involve creating separate pages in your site for individual locations and other local content strategies such as blogging/writing articles on trending topics about your products/services segment, getting connected with local/community events in your neighbourhood and featuring those information on the website for maximum outreach. So "Website Localization" is a very effective SEO strategy and one of the top 5 ways to improve your local ranking on Google.
2. Citation Building
Citation building is the process of getting your site featured on citation sites such as Business listing directories with accurate and most relevant information about your business. Not only will this help customers find your business, but featuring your company's name, address and phone number on citation sites with detailed information on business directories will help both the search engines and potential customers know exactly how and where to find your business which in turn will improve your search rankings and business as well.
3. Claiming your Google My Business listing
The way people search these days is changing rapidly as they seek information instantly. Claiming and properly optimizing Google My Business page offers a fantastic opportunity to display your business on important online platforms such as Google local search and Google Maps. A well optimized GMB displays the most important information (about your business) such as Address, Phone no, Link to your website, Opening/Closing times and your upcoming events. If you want to rank higher in local search and Google map results then GMB should always be the first online platform to take ownership of. The same process can be followed by to be listed on "Bing places for Business" which has also a visible impact in local searches. 
4. Managing reviews and ratings
Genuine, honest reviews are very necessary both for showcasing the quality of your service and for sending strong signals to search engines that your website and products/services are trusted and useful. Reviews and feedbacks have important role in Google ranking factors. The number of reviews you receive, the overall quality of the reviews and the authority of the review sites themselves are all important factors for local search rankings. Being an expert company for Local Business SEO, we can help boost your online rankings and outreach by superbly managing reviews and ratings on dominating review sites including the all-important "Google reviews" for your website.
5. Getting quality backlinks
Backlinks are the most defining and powerful factors among "Top 5 ways to improve your local ranking on Google". Naturally obtained backlinks from authoritative websites are the backbone of your website's ranking. It sends strong signal to search engines to recognize your site as a trusted source of information. Links from local newspapers, bloggers and business associations, as well as citations can all help improve your search visibility. Our well-designed Backlinks profile which is customized for small and medium businesses is well-capable to bring a website on top of the Google local searches.
We are always ready to keep up with the latest Local SEO trends besides implementing the above top 5 ways to improve your local ranking on Google.
ProtechZi is one of the most innovative and trusted Local Business SEO companies in the USA, Canada, and Australia including few other promising countries where Digital Marketing is catching up with the latest trends.
Our Local SEO Pricing is very pocket-friendly to start with!
Our most of the successful Local SEO campaigns for small and medium-sized businesses are running in the below-listed states/cities of the USA :
New Jersey, California, Texas, Florida, Pennsylvania, Georgia, Arizona, North Carolina, Oregon, Maryland.
Los Angeles, Ontario, Delray Beach, Orlando, Atlanta, Baltimore, Bridgeton, Wilson, Albany, Pittsburgh.
Are You Ready to Start Your SEO?
Let's talk to our Experts
Request a Free Quote
Client Say About Our Design
I needed a new hosting solution after Yahoo decided not to support the authoring tool they provided years ago. ProtechZi duplicated my site & launched it on their secure servers in just a few days. They respond promptly & accurately every time. In short...they rock!
Kevin is such a pleasure to work with, along with the rest of his staff. Protechzi are in constant Communication within in seconds anytime you have a question or need anything done for your website. We run 3 different companies and use protechzi for all 3 of our...
Our Services
Hosting Recommendation

Visit Hostinger

Visit A2Hosting