What is the Difference Between SEO and Google AdWords?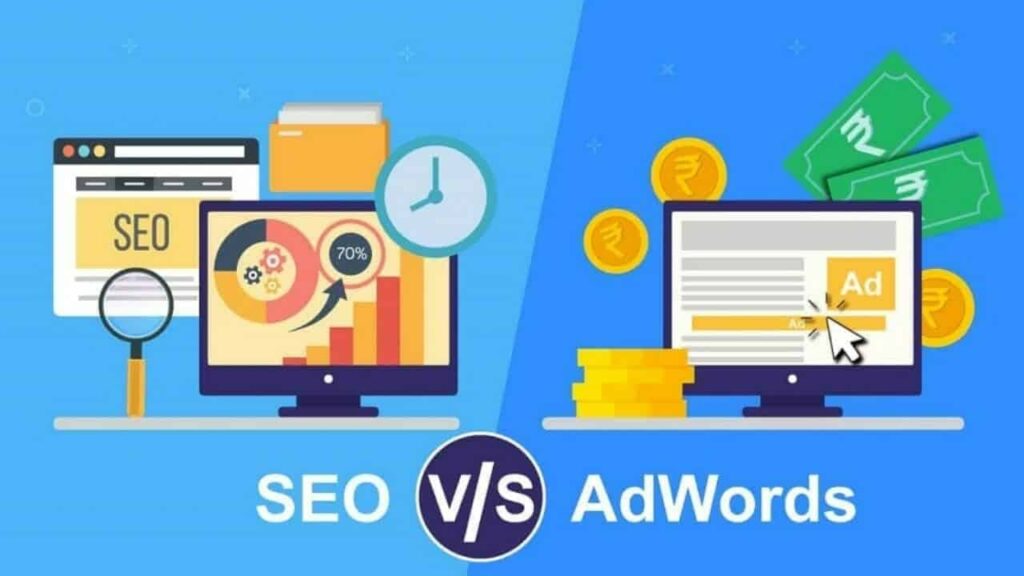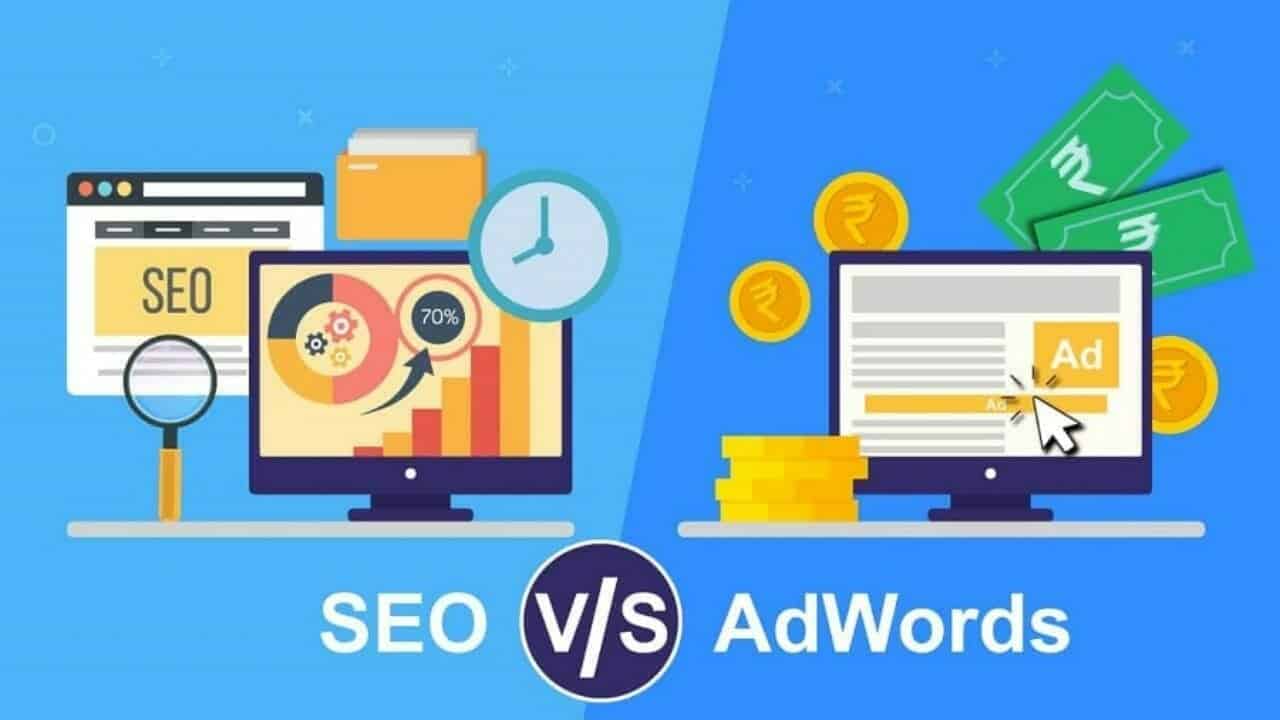 This is not much confusing to explain what is the difference between SEO and Google AdWords. Before we understand the difference, first we will have to understand what is SEO and what is Google AdWord. I will explain you step by step to completely understand the difference between SEO and Google AdWords.
Today our life is completely linked to the use of search engines. Imagine how often you suggest "check on Google" when you need any kind of information. Within a fraction of a second after you search for something on a search engine like Google, Yahoo and Bing, millions of results populate on the search engine results page (SERP).
Within that list, you will find  both organic and paid search results. The difference between the two has a lot to do with how they got there. Often, the first few results you see are ads (paid search) that the search engines are paid to recommend you those result showing on top and bottom of the search engine result page, while the middle results come from all around the web (organic search), but aren't necessarily paid. Paid advertising also extends to other platforms like Facebook, Instagram, LinkedIn and more.
If your business has an online presence, understanding the difference between organic SEO and Google AdWords (paid search), and how it can be applied to your business, is crucial. Read on to learn more about the basics of each to how you can use both to drive more traffic to your website.
Let's break it down for you.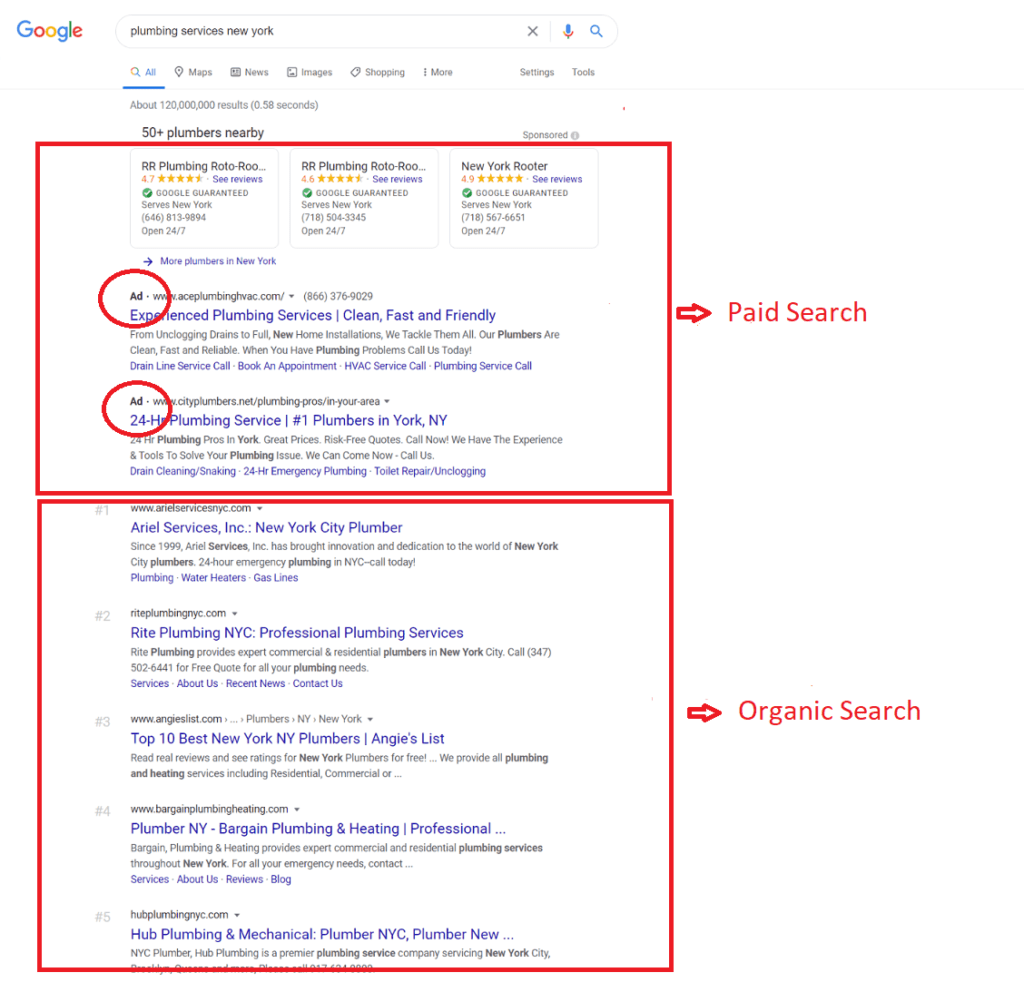 What is Organic SEO or Organic Search
Search Engine Optimization is a process or a series of execution of different technics instructed by Google or any other search engine to increase the search visibility of your website on leading search engine result page like Google, Yahoo and Bing.
3 out of 4 people use search engines to find a products or services. The first page of search results gets 90% of the traffic, the second page gets only 5%, and it decreases steadily beyond that. If your business is not on the first page of results for your targeted keywords, you are missing out on valuable leads.
There are natural ("organic"), and paid ways of achieving higher ranking on search engine result page. Positioning a website higher on search engine result pages dramatically increases its overall search visibility. Studies indicate that people often only pay attention to the first few results for the specific keyword(s) they searched for, therefore it is important to ensure your website is found or visible on the top of the search engine.
What is Google AdWords or Pay Per Click (Paid Search)
Pay per Click (PPC) refers to the concept of placing paid ads on the search results of major search engines like Google Yahoo and Bing. Services offer "Pay Per Click" advertisements where you get a preferred placement of your advertisement among other results and pay a fee for every single visitor that clicks on your ad link based on a pre-set price.
For a fast return on investment, you need to create a PPC campaign for your business.  ProtechZi has expertise in creating campaigns in Google Adwords, Bing Ads, and social media advertising (Facebook, Twitter, and LinkedIn)
While Search Engine Optimization is a great approach for long-term growth, sometimes you really need an immediate boost. ProtechZi Internet Marketing offers Pay Per Click campaign management, ensuring that the money you spend is put to the very best possible use.
Organic SEO or Google AdWord which one should I choose for my Business ?
Marketers need to use both paid and organic search strategies to compete in today's digital landscape. Organic search results, generally speaking, have an evergreen presence. That means they can continue to climb up the rankings over time, assuming the information remains relevant. Paid ads, on the other hand, stop displaying as soon as you stop paying.
If you are new to digital marketing or have a lean marketing budget, choosing the right strategy may feel overwhelming. But don't worry – we're going to lay out the pros and cons of each so you can make the best (and most informed) decisions for your business.
It's also important to fully understand how and where your customers are looking for solutions online, so you don't waste any of your budget on tactics that might not make sense for your business. For example, if you have a very visual brand like a clothing company, Instagram ads may make sense, where that might not make sense for another type of business. Your time, and your money, is precious! Delivering the right answers where your customer base is asking the questions can make all the difference.
Organic SEO Pros & Cons
In general, having a presence on the first page of the SERPs sends a message that you are a trusted source of information. After all, you beat out millions of other businesses for that spot! It suggests your service is one of the most widely relied upon, and there's an automatic perception of credibility and respectability for your business.
When you follow SEO best practices on your website, you will naturally earn authority and rank higher on search engines. This means Google (and other search engines) considers you a reliable source of information for certain keywords, pushing your website higher up in the list on SERPs for searches containing those terms. The more authority your site has, the higher you will rank – and the higher you rank, the more authority your site earns (what I like to call the serple of life).
But even more important than that, the people doing the searching will consider your site a go-to destination for the information they need. People tend to trust organically ranked web pages more than the ads, so they click on them. When it comes to click-throughs, organic beats paid 65% of the time for desktop searches. Your optimized pages and amazing content will prove to Google and the world that you know what you're talking about!
Cost of Organic SEO
Although you can spend a lot of money optimizing your organic search ranking, but still you can decide how much you want to invest initially and once you grow then you can consider investing more to optimize your website . Organic SEO is a steady and slow process, as the same suggest its organic and it will take some time to show you the actual result.
But some time it takes very less time may be a month time to get you a top ranking for most of your keywords. Anyway the pricing depends on various factor like the number of keywords you want to optimize, number of content you want to post per month, number of social media account you want to promote etc..However our SEO plans starts from $150 per month.
Please check our pre defined SEO plans and get started with one of the plan that best suits your budget. Our SEO Plans
Google AdWords Pros & Cons
What could be better than getting your message out there quickly and efficiently to people who are actively looking for what you offer? Paid search has a lot of benefits, but those benefits come at a cost (sometimes a significant one). It's fast, fairly easy, and highly targeted – but also expensive and short lived. So what is it about paid search that has people coming back again and again?
Its Faster & Easier
Developing evergreen SEO content and waiting for it to climb up the Google rankings can be a slow, labor-intensive process. If you don't have that much time, paid search can get you in front of new audiences much quicker. Without a doubt, there is no faster way to be the very first result people see when they land on an SERP than with PPC. If you follow AdWords best practices, optimize your ads, develop a great landing page, and have a competitive budget (for your industry) than you will be able to attract targeted customers who are ready to buy.
Crafting a successful PPC campaign isn't exactly a walk in the park. But paid search efforts, in a way, are simpler to get off the ground than organic search campaigns. It certainly requires fewer resources (like a team of writers to develop long form, SEO-friendly content), but it also requires a level of expertise to manage campaigns to avoid misspending budget on unqualified traffic. Although some aspects of paid search campaigns can seem daunting, machine learning technology is making the process much easier and much more accessible for small businesses.
Every year, audience targeting gets more sophisticated across the platforms. Although GDPR and privacy is a top concern, targeting remains an ongoing and important part of digital marketing. Google, Facebook, Instagram, Bing and others all offer targeting methods that help you specify exactly who you want to see your ads. On Facebook for example, you can target by location, age, educational level, marital status, shopping behaviors and more. This kind of granularity means that you'll have access to people that are much more likely to click on your ad, engage with your content, and buy your product.
Paid search gives you the opportunity to put your product or service in front of people who have a high purchase intent. When the searcher is that far down the funnel, relevant ads at the top of the fold tend to get a larger share of click-throughs (and clicks on paid search are rising). If the keywords show a desire to buy, and an ad specifically for the product or service being searched for comes up on the SERP, the searcher's problem is solved fast. However, keyword research and testing are required to refine your campaigns so they match what people are looking for. Well thought out campaigns will result in a higher quality score (QS) and have better visibility.
Cost & Longevity
With paid search, you pay to play. Depending on the competition for the keywords you want to bid on, you may end up needing a significant budget to compete. However, the competition in every industry differs and the price of keywords varies depending on many factors (broad vs. exact match, long tail vs. short, branded vs. non-branded, etc). And while the cost may end up in the thousands of dollars for some industries, in the end what matters is your return on investment. If you spend 2K on a paid search campaign but end up making 10K back, it's probably worth the investment! Adding machine learning to the mix also has the potential to significantly increase ROI.
Alongside this, the visibility of these campaigns and the potential for a higher ROI only lasts as long as the campaign is running – and the campaign only runs as long as you are still spending. When the well runs dry, that's it, until more budget is allotted.
Contact Us to talk to one of our expert and find a best solution for your business